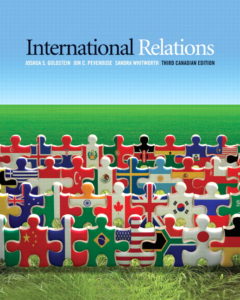 Joshua S. Goldstein, American University and University of Massachusetts, Amherst
Jon C. Pevehouse, University of Wisconsin, Madison
Sandra Whitworth, York University
International Relations presents the current concepts, theories, and events that comprise the discipline in a comprehensive yet accessible manner. Each of these elements is examined through the subfields of international security; international organization, law, and political economy; North-South issues; and the environment.
This text illustrates how the various subfields of international relations are integrated conceptually while the use of concrete examples connects theory back to the real world events present in students' lives.
The Third Canadian Edition deepens the Canadian perspective; includes new coverage of recent major international events; and places more emphasis on the Environment, International Law, and International Organizations.
Publisher Website